Why fruit and chocolate are a match made in heaven
Taste. When dosed and paired well, fruit will not overwhelm the taste of chocolate and will bring a fine extra taste spot which is in harmony with chocolate. It is important to find a fruit source which will be impactful in taste whilst not too overpowering. Orange, coconut and strawberry are good candidates and belong to the top ten flavours of global new product launches in the last three years (Mintel 2021).
Texture. This is where, together with taste, fruit has much to offer. When used well and in the right condition, fruit pieces can bring exciting texture and pleasure to any chocolate offering. Think chewy, soft, or even combined with additional textural elements like crisped rice or puffed quinoa for contrast; or even a triple sensation like smooth chocolate melting off, chewy fruit and crunchy crisp.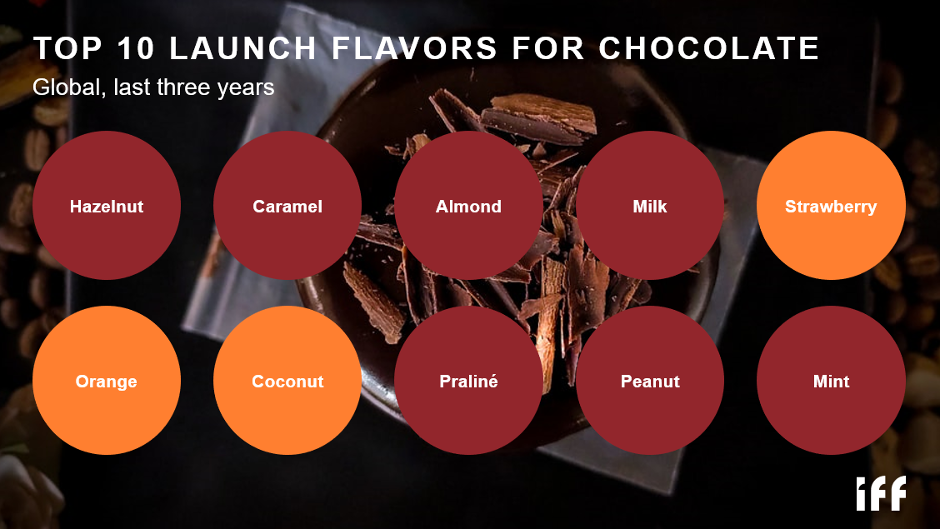 What consumers want from chocolate with fruit?
Taste and Excitement
Taste, luxury and wellness
Smartphone-proof
Vegan
Which types of fillings are compatible with chocolate?
Many kinds of fillings are used in chocolate products – creams, liquorices, fondants, jellies, and dried fruits or fruit inclusions can all be incorporated into the chocolate mass. The fruits can be crystallized, covered by chocolate, and used as jellies or as creamy fillings. (Researchgate)
Five difficulties manufacturers face when combining chocolate and fruit
Size (irregular size, impact of ingredient size on dosage)
Processability (Intense production process, stickiness, brittleness)
Consistency (Taste balance, color, line set-up for other flavors, temperature)
Safety (water activity, shelf life, allergen-free, contaminants-free)
Moisture migration (fruit naturally rich in moisture/juice)